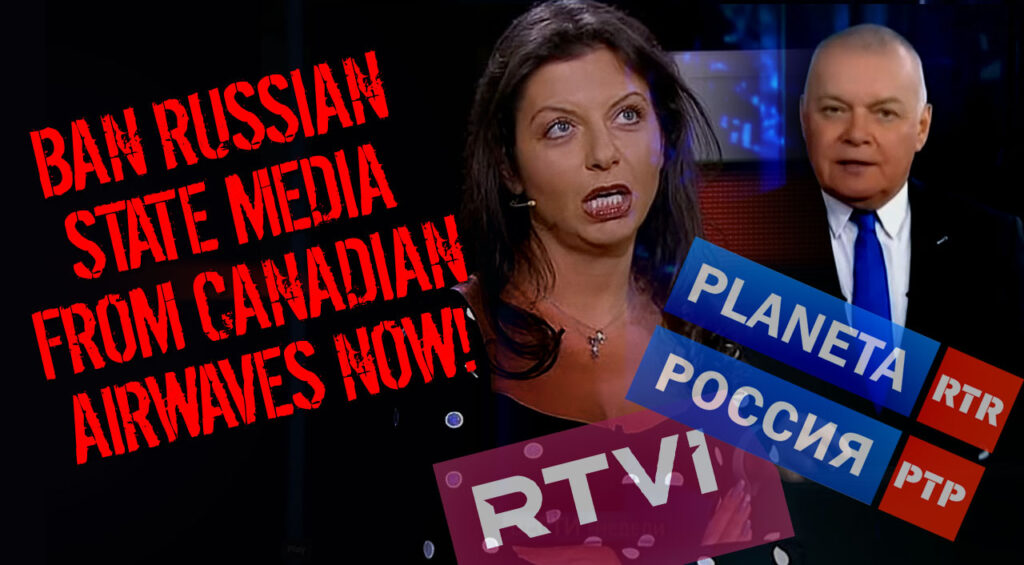 April 7, 2022
TORONTO- The Central and Eastern European Council in Canada (CEEC) calls on the Government of Canada to ban all Russian state media from weaponizing Canada's public airwaves as part of its information warfare on Ukraine, NATO and Canada. Russian state media threatens to radicalize parts of the Russian speaking community in Canada with anti-Ukrainian rhetoric.
The CEEC thanks Rogers Communication for voicing the company's concerns about Russian state media in Canada in a recent submission to the CRTC: "In our view, it would be appropriate for the commission to also consider removing … any programming service that is either owned or controlled by a state that is subject to Canadian sanctions."
In 2019, CBC News published a report about anti-Ukrainian narratives that were being promoted by Russian state media news channels on the RTR Planeta and Russia 1 channels which are both available on Canadian public cable and satellite airwaves. Another Russian state media report published on April 3, 2022, called for the de-Ukrainiainzation of Ukraine.
Such anti-Ukrainian narratives have intensified over the past months and correspond with rising anti-Ukrainian crimes reported in Canada.
The CEEC, representing the interests of 4.5 million Canadians of Central and Eastern European heritage, calls on the Canadian government to immediately end the Russian government's ability to weaponize Canada's public airwaves to broadcast disinformation and anti-Ukrainian hate on its government controlled and owned channels, by banning them from Canada and placing sanctions on all Russian owned media entities.
For more information: ceecouncilcanada@gmail.com